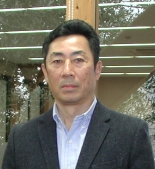 Okinawa is a picturesque island with warm weather, and is a lively area in which "YUI-MAL", the spirit of mutual aid, is alive.

50 years ago, MARUTAKA CO.,LTD. started business in Uruma-city, located in the middle of Okinawa, and became a group company of SHINKO ELECTRIC Inc. in 2004.

We have been mainly engaged in projects on the U.S.military bases in Okinawa for the past 5 years, after MITOMO DENKI SERVICE CO.,LTD. joined our group.

Our employees are important assets of our company and their development has been the driving force behind our company's development.

We are willing to acquire a higher level of knowledge and skills and will continue working towards being the best contractor that can respond to our customers' expectations.
CEO, Hidehiko Onishi